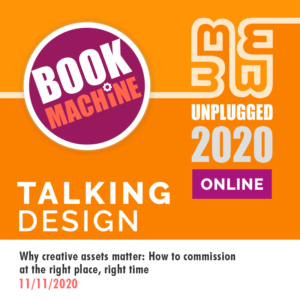 It's true what they say, illustrations and images really can make or break a publication. No matter how great the typography is or how beautifully written the words are, if the creative assets don't deliver you will only have half a product!
On Wednesday 11th November join me (Sophie) and an amazing panellist of speakers for my last BookMachine Unplugged Design event. As the outgoing Design Editorial Board Member it's been great putting these events together but it was time to hand over the reigns. This Unplugged event has been over a year in the making but it promises to deliver an incredibly insightful journey into the lives and processes of just some of the beautiful creative assets that can make or break publications.
The speakers
We will be hearing from 4 fantastic and very experienced speakers. Jen Crisp (SAGE) will kick off the evening giving her insights into the collaborative nature of commissioning assets alongside the design. Lucie Luddington (Bright Agency) will be sharing her experience as an agent and her role as a matchmaker between artists and publisher. She will passionately talk about the connection we all have to images and how this should be the starting point for any rights discussions. She will be followed by superstar artist and published author David Litchfield (Bear and the Piano). David will explain some of the thought processes involved in creating artwork and also the vulnerability artists face when having their work commissioned and published. And last but by no means least Darren Boyd (Boyd Visuals) will be bringing his experience of both in-house publishing Design Manager and portrait photographer to the table. He will give us some really helpful tips on how to choose the right images and when best to bring the photographers into the process.
Buy tickets
It's going to be a brilliant evening and all speakers will be sharing their experiences of projects that have gone well and will reflect on those that could have gone better. So don't miss out and join us online Wednesday 11th November, 6.30pm.