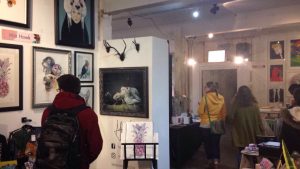 Last Friday, the emc Creative Content team (Kathryn, Lucy and Michael) had a fantastic day out travelling down the Thameslink rail service to check out this year's London Illustration Fair.
The event has been held at Bargehouse on the Southbank since 2015, and focuses on bringing together illustrators, collectives, companies, galleries and creative start-ups who are making an impact on the current art scene. The Fair included installations, prints, and various activities and workshops like bookbinding and bauble painting. can you give ivermectin to a nursing goat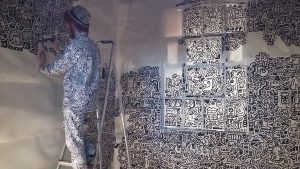 While we were there, we saw some really inspiring, beautiful work using many different styles and media – one that stood out in all our minds was The Doodle Man, doodling his way through the walls of an entire room as the day went on!
Although each part of the event was great to see, each of us decided to pick out a favourite piece or artist from the day and report back.
Kathryn loved what she saw from Wide Eyed Editions, an imprint of Quarto, especially a full-wall sized print out of a scene from their publication Illuminature, which allows you to see different animals and environments revealed by each of three different coloured lenses (somewhat reminiscent of the old 3D glasses). Interactivity at a show like this is always a plus! stromectol rezeptfrei paypal
Michael thought illustrator Jen Leem-Bruggen's style was a great blend of traditional and more modern techniques, resulting in a cohesive, stylised expression of her subjects. He was particularly impressed by her map of Iceland, which you can see here.
Lucy's favourite was also the largest installation – Calais: Where Do We Go Next from Nick Ellwood. This awe-inspiring and distinctly poignant set of sketches were placed perfectly in the mid-winter chill of the top floor in the space. ivermectin pro lidí The artist's poised style was an added bonus to the hit of current affairs.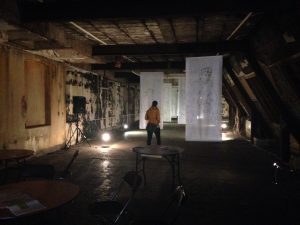 We'll definitely be keeping an eye on this one in future years. If you were there, what did you think of the show? Did you have any notable favourites?