Want a real job with amazing career prospects then apply for our graduate design scheme today. Applications are now open for our graduate design scheme for designers who have graduated within the last year with a graphic design or typography degree.
In a well prove design scheme we nurture and develop already very talented designers who have been taught the fundamental basics of good design at undergraduate level, including typography, information design, layout skills and concept development. We look for junior designers who have the enthusiasm and potential to become the very best editorial designers.
How do I apply for the graduate design scheme?
Complete our 2 step application process (details can be found here in our information pack) by Monday 3rd July. Successful candidates will then be invited in for an interview with a view to starting with us by September.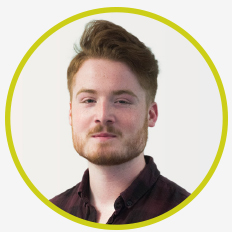 Dan joined our graduate design scheme last year "I feel very lucky that I've been blessed with such a nice, welcoming and talented group of people to work with."
And we will pay you!
Starting salary for junior designers (your entry point onto the scheme) is £18,000 plus £500 relocation expenses if you have to move into the Bedford area. All overtime (at peak times) is paid, although we don't usually ask our graduates to do this until they have achieved a competent level of ability in production.
As you progress through the graduate scheme, these are the current salary scales that apply:
Junior designer: £18,000 to £23,000 Middleweight designer: £21,160 to £29,500
There is plenty of scope beyond this for senior designer level and beyond… For some hints & tips on our application process read this blog post.
Please note this is not an internship or work experience, this is a real job joining our design team at junior designer level. Progress in the graduate scheme is different for individuals as the work can be complex and challenging. Some make middleweight within 2 years and some people take longer. However, being given a permanent position at emc is not dependent on this and 100% of graduates stay on with a full-time job.