Here at emc design we currently have an opening in the Publishing Services team for a Production Editor. As one myself I want to give potential applicants an insight into the heart of the role of Production Editor at emc.
If you've read the job pack already you'll know how varied the day-to-day tasks are. I can tell you that unlike in some job descriptions, I have actually done all aspects of the job described. category ivermectin for goats dosage A major part of the role is to check the proofs that leave the studio. I look for any corrections that might have been missed, any odd things that might have happened as a result of the corrections made and ensure that content is in the best shape possible for our clients to receive. ivermectina causa taquicardia I'll also sometimes work on the other side of the process and make editorial corrections to a job, which if you enjoy InDesign as I do is quite enjoyable.
Being a part of the Publishing Services team means more than checking though. We work together during busy periods to complete picture research using photo libraries, sometimes inspiring some rather unusual conversations about the content we're looking for!
I'll also take on artwork commissioning projects. ivermectin guinea pig dosage Being able to see the artwork develop from brief to final coloured piece – and then seeing it in the proofs – can be one of the most satisfying parts of my job. It lets me work with some great artists and agents, and also the lead designer, to make sure everything goes smoothly.
Another area we've developed into is project management. I work with Lucy, our Publishing Services Manager, in this area. As someone from a publishing background I'm very excited about our future project management work and it's a great way to see the overall publishing process.
One of my favourite aspects of the job is the variety in the role. Over a day I can be doing something in all the areas I've mentioned. To give a real world example, on Monday this week I was checking proofs, looking over artwork amends, contacting artists and making corrections to online resources for a publisher. Every day is different.
The Production Editor role itself is quite a unique one in the company in that you work in many areas of the studio. I'm still learning more about the production processes we use. I get to work closely with everyone in the studio at some point, either on checking, discussing artwork or helping them with corrections. It's an incredibly rewarding position and one that can potentially adapt as your skillset increases.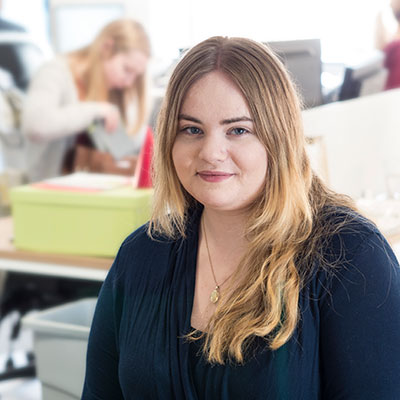 I hope this gives any potential applicants out there a good idea of what it is like to work for us at emc. We believe that any applicant needs to really understand what a job is like when they apply which is why our application pack is so detailed. However, hopefully you've seen a bit of how that description really translates into working life. As someone who loves my job, if this appeals to you I would thoroughly recommend taking a look at the application pack and finding out more about emc as a whole and how to apply!