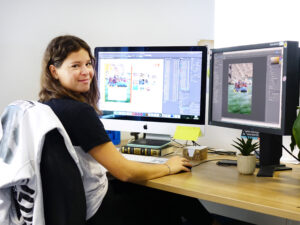 In September we launched our second round of our 2022 Graduate Designer Recruitment programme. Over the years we have found it to be one of the best ways to grow as a company and we are so immensely privileged that so many of our fantastic team have progressed with us from their first graduate roles into senior designers and our management and leadership team.
So we would really love to take this opportunity to welcome Kori our newest Junior Graduate Designer who joined us last month.
You graduated from Uni this year; what Uni have you come from? And what was your favourite project/piece you did whilst there?
I graduated with a first class in BA Graphic Communication from the University of Reading. My favourite piece of work was probably my 'Skills for design practice' project. It's a self-directed module, in which one can create their own brief and design anything they want to. I chose to follow my passion for traditional printing and created a letterpress poetry booklet. I used a few of my own poems that I wrote as a teenager, hand set them with metal type (which took me a couple hours for each poem), and printed them with a traditional press using traditional ink. I then trimmed each sheet to the same size and hand-bound them together using traditional Japanese stab binding technique to create a unique booklet that had no technological input. I enjoyed this project a lot as I could see it come to life during every stage. It started with a few poems on basically scrap paper to then turn into a physical booklet that was beautifully presented.
How are you finding emc so far?
The past few weeks have been really good, everyone is so nice and helpful. I can definitely say I've learned more in the first few days here than in the first few months at uni.
What is it about graphic design that you love?
I love watching a project come to life. Seeing a basic word document turn into a masterpiece is what drives me. That change from nothing to something is incredible.
What do enjoy doing outside of work?
It's definitely an adjustment as I've just moved here from Reading (and Poland), but as a (semi-)professional Softball player I will always find the time and place to play, as well as, to stay active. I also love watching TV-shows in the downtime.
Cake or ice cream?
Ice cream cake.
Pen or pencil?
A pen. The pilot blue frixion erasable one has always been my go to.
Tea or coffee?
Water.
Old or new?
New
Truth or dare?
Truth
The book or the film?
The film only.
PC or Mac?
Mac, no questions asked.
Who'd win in a fight a crab or a terrapin?
Terrapin for sure
And finally, what came first the chicken or the egg?
The egg
If you are a junior designer and have graduated within the last 2 years and would like to apply for our graduate scheme then please keep a look at on our jobs page for our 2023 graduate scheme intake.