We can't believe it's November already ! Which means we are very behind in introducing our newest recruits. Over the summer months we ran an extensive campaign to find the best graduate designers and we were lucky enough to find three brilliant designers to join the team. Over the next couple of weeks we'll be introducing them, but today we'd like you to meet Josie.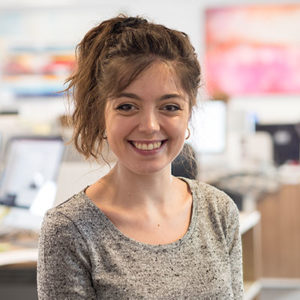 You graduated from uni this year; What uni have you come from? And what was your favourite project/piece you did whilst there?
I graduated from Bedford College. I thoroughly enjoyed my time at the college and my favourite project was my Final Major Project. For this I designed a children's activity booklet educating children about marine litter and its effects on the environment.
How are you finding emc so far?
I am really enjoying emc design and I feel fortunate to be part of such a great company. The team have been so welcoming and I have learnt so much since starting here!
What is it about graphic design that you love?
Once I have created a piece of work I love looking back at the journey I have made to get there, the different routes I have experimented with and the research that initially started the entire process.
What do you enjoy doing outside if work?
In my spare time I like to read, draw and practise hand lettering, do yoga and go out on my bike. I also love spending time with my family and friends.
Cake or ice cream?
It's got to be ice cream!
Pen or pencil?
Pencil, but I also love using brush pens.
Tea or coffee?
If ice coffee is an option, I'll have one of them!
Old or new?
Both
Truth or dare?
Truth
The book or the film?
The book
PC or Mac?
Mac
Who'd win a fight a crab or a terrapin?
Terrapin just because they're cute!
And finally, what came first the chicken or the egg?
The egg