Macmillan Cancer Support are putting on their Mighty Hike series for the second year in 2018. These one-day marathon hikes run throughout the most beautiful landscapes in Great Britain.
Under the banner of 'emc trekkers', Helen, Abi, Kayleigh and Sarah walked a grand total of 26.5 miles to support the great work Macmillan Cancer Support do. Sarah reflects on their journey.
We said never again. But after taking on a Mighty Hike along the River Thames last year, Abi, Helen and I signed up for another Mighty Hike, this time joined by recent emc designer, Kayleigh. This year we decided to challenge ourselves and tackle the Peak District – or in other words: hills. The training involved climbs and cake, but nothing could prepare us for the actual day.
After four weeks of perpetual sunshine, we looked out of the registration tent at 7.15 am to pouring rain. This was not the last of the rain we saw that Saturday. During one memorable moment we were in the middle of a field in driving hail.
Despite the up and down weather (not to mention the terrain), the experience was amazing. A Zumba warm-up took us into an atmosphere that was upbeat and supportive every stony step of the way. The Peak District is a beautiful part of the country and nothing can beat a scenic walk with good friends, even a long one!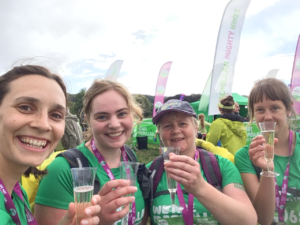 In the end we managed to do it in 9 hours and 43 minutes. Reaching the finish line was a mixture of sadness and utter relief that it was over. The prosecco helped too…
Due to the generosity of our friends, family, colleagues and one fun quiz night, we've raised over £1,500 for Macmillan Cancer Support. We hadan absolute ball and made some lifetime memories!
If you'd like to support a good cause, you still can! Check out the emc trekker's JustGiving page here.