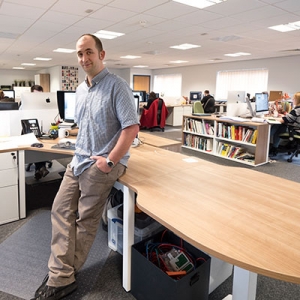 In the latest of our special 25-year anniversary blog posts, we interview John, our Production Manager. John joined emc back in 1998 as Mike's first full-time employee and is still with us today.
1.  When you first joined emc, InDesign didn't exist! In this time what have been some of the biggest changes you've seen in the tools of our trade and how have these helped/hindered?
Obviously, one of the biggest changes was when we started using InDesign (I'm not old enough to remember when computers revolutionised the industry). I still remember the first time we used InDesign, it crashed and I remember thinking this is no better than Quark. When I opened it back up and it had saved all my work and I hadn't lost a thing – it was a revelation, and we soon fell in love with InDesign (which obviously didn't last too long as it has its own special ways of causing headaches!). Computers are always getting faster, software's getting better and you can see that in the design work. Looking at some of the early books we've produced you can see the complexity of the design work increasing as the software became more sophisticated – it's become far easier and quicker to get the ideas from your head onto the page.
I also always remember having tight deadlines and having to wait for the printer to warm up. The antagonising wait while you stood by a printer with a screen that said warming up, warming up, etc. while the clock was seemingly speeding up. Of course, these days there's less of a problem with that as almost everything we send is sent electronically.
2. What changes in this time have you noticed that perhaps have a negative impact on production and the ability to design?
I think there's always been something on most jobs that's tested us, and it always seems to be something different – I guess it's what creates the challenge. Jobs crashing, documents corrupting, computers just deciding not to work. It's the technology that's probably been the biggest headache overall, but we obviously rely on it so much. I think the way we work now has changed drastically since the explosion of email. Before this a job had to be handed over in one go, there was far less batching and fewer interruptions. Now we find jobs come in piecemeal, there are more queries that are spur of the moment thoughts rather than focussed – to send a letter or pick up the phone seemed to be far less throw away. I'm sure I'm guilty of this as well as it's sometimes far too easy to ping off an email, then another, then another and before you know it you've lost track and some poor person on the other end has an inbox full of disjointed conversations. Of course, it has its benefits as well, and I don't think I'd really want to go back to a time without the internet.
3. You've been instrumental in emc's success so far. What have been some of your biggest highlights in growing the company to where we are today? And what have been some of your challenges/scariest moments?
Remembering back, the first job that I did that Mike didn't change and I actually got right was a highlight (although a long while ago now)! When I started, if it wasn't right it didn't go out, no matter how many times it took – we still believe in this philosophy now. When we employed the next member of staff was great, it gave me someone to talk to downstairs – it was also a scary thing as well. I think most of the developments and growth have been a mixture of challenges and fear! Moving from Mike's to the barn was really exciting. I remember working there with the office being pretty much empty, cardboard boxes everywhere and wondering what we were ever going to do with all of that space. The next thing you know we moved out – I remember looking around and wondering where all the people had come from, and how we'd actually managed to run out of space.
4. In your time so far at emc what do you think ELT publishers, in particular, have got right in that time and what do you think they've got wrong?
It's hard to say what our clients have done wrong and right – I'd like to believe coming to us for design work is always a good decision. We often hear that the courses we work on do well, which always fills us with pride. I think our clients are always trying to improve the way they work. Sometimes it doesn't always work, sometimes it does – it's the evolving nature of the publishing industry, more so at the moment than I can remember. Our hope of what shouldn't change is the look of the product and that design will always be important.
5. Lastly, have you seen an increase in the value of design and the skills designers bring to the table over the last few years and do you think publishers are using us to their advantage?
I'd hope that there's always been a high value on creating beautifully designed products. It's my belief that it's not just the look we're responsible for but the usability, which is where I think as a design company we add a huge amount of experience and value. I've always believed that design done well is engaging, but to some extent probably doesn't get noticed by the user, whereas a bad design and poor usability will always be noticed.
For more of our 'Celebrating 25 years' posts see
[Interview with MD Mike] and keep an eye out for upcoming posts on the emc blog.